Thickets are a three-piece alternative-folk band featuring Rebecca Lavery on vocals/autoharp, Emma Hamilton on cello/vocals and Kieran Lavery on drums.
Inspired by the likes of Nick Cave, PJ Harvey and The Decemberists, our songs weave dark tales of murder, regret and revenge. The unusual combination of autoharp, cello and drums creates a haunting, melancholic sound, complemented by layers of ethereal vocal harmonies.
Debut EP now available to to download from iTunes or Spotify or buy on CD for £4 (+£1 P&P in the UK) via the PayPal link below: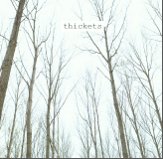 Non-UK people – please drop us an email at thickets@outlook.com if you would like a CD.