Thickets are a three-piece alternative-folk band based in London. Thickets are Rebecca Lavery (vocals/autoharp), Allanah Secis (cello/vocals) and Kieran Lavery (drums).
Inspired by the likes of Nick Cave, PJ Harvey and Isobel Campbell & Mark Lanegan, our songs weave dark tales of murder, regret and revenge. The unusual combination of cello and autoharp creates a haunting, melancholic sound, supported by driving drumbeats and layers of ethereal harmonies.
Debut EP now available to to download from iTunes or Spotify or buy on CD for £4 (+£1 P&P in the UK) via the PayPal link below: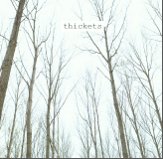 Non-UK people – please drop us an email at thickets@outlook.com if you would like a CD.